Admin:Add Lab
Adding a laboratory
Administrators may add a new laboratory to the drop-down menu listing that is available when new testwork data is imported.
Click Administration button at the top-right corner of the screen
Click Labs from the administration panel on the right side of the page
Click the green Add new button at the bottom of the listing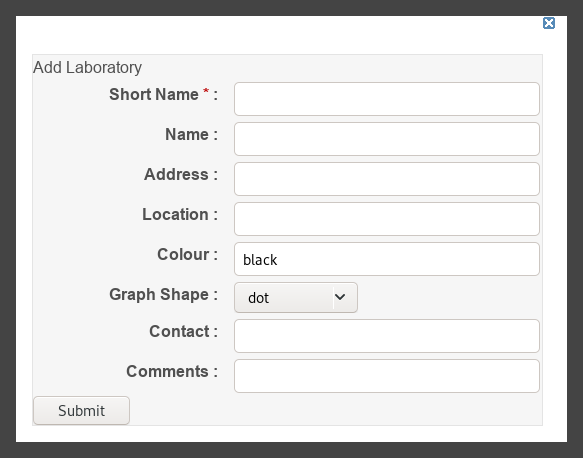 The fields are:
Short name as it will appear in the drop-down menu
Formal or full Name of the laboratory (optional)
Address where the lab is located (optional)
Colour of the data points for tests done at this laboratory (black is default)
Graph shape is the symbol, any of 'diamond','dot' (the default),'cross','rect' (square), or 'triangle'
Contact name at the laboratory (optional)
Comments, usually include the list of tests this lab is capable of (optional).
Press 'submit' when done and the lab's Short name will now appear in the listing of laboratories any time someone is entering test data.